As a benefit of membership, SBANE will gladly post press releases from member companies. It's as easy as sending the press release to SBANE and the staff will take care of the rest. To include your company's latest press release here, please contact Sarah Henry, Communications Manager at sarah@sbane.org.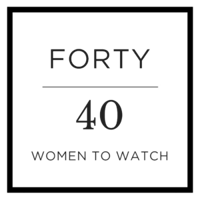 AAFCPAs takes great pleasure in announcing that our firm's co-managing partner Carla McCall, CPA, CGMA, was selected for the national recognition "Forty Women over 40 to Watch" list. Forty Over 40 honors women who, despite gender and age bias, are disrupting their career and harnessing their power to help other women do the same. Carla is certainly well deserving of this distinction.
"I'm hoping to continue to disrupt the idea that women have significant hurdles to overcome in order to reach the C-suite in public accounting," said Carla. "I'm passionate about creating leadership opportunities for women, advancing the women's agenda on a national level, especially as I help support the American Institute of CPAs' (AICPAs) vision. Collectively, our profession needs to include more flexible and modern ways of working that help promote women's advancement."
Carla continues to reinvent "leaning in" with her strategic initiatives for the future. Her work has contributed to an increase of female leadership at AAFCPAs from 25% in 2011 to 48% currently.
"Carla is renowned for her creativity, clarity and confidence, and for creating positive momentum that is felt throughout our firm as well as with everyone she encounters," said co-managing partner Dave McManus. "All 24 partners of the firm are proud of this recognition by 40 Over Forty and Forbes, as it's a testament of Carla's hard work and brings national attention to an initiative we strongly support."
About AAFCPAs
AAFCPAs is an attractive alternative to the Big 4 and National CPA firms. We provide best-value assurance, tax, accounting, and business & IT advisory solutions to nonprofit organizations, commercial companies, and wealthy individuals/estates. Since 1973, AAF's sincere approach to business and service excellence has attracted discerning clients along with the best and brightest CPA and consulting professionals. AAF donates 10% of its net profits annually to nonprofit organizations.
AAFCPAs is an independent member of PrimeGlobal, Inc., the fourth largest CPA firm association in the world. These resources provide our clients with seamless national and global reach. Our pay-as-you-use model is considered advantageous by our diverse clients who appreciate exceptional value.
Read More
1